Dr R. Killick-Kendrick (MPhil, PhD, DSc, DIC, FIMLS, (Hon)FRES, FSB, CBiol) is a biologist who has spent over 50 years studying diseases carried by biting insects.
As a young man, he lived in Nigeria for eight years working on human sleeping sickness and related diseases of domestic animals carried by tsetse flies. On leaving Nigeria, he joined the London School of Hygiene and Tropical Medicine where he took part in teaching parasitology and in research, mainly on malaria. His studies on leishmaniasis and its sand fly vectors began in 1972 when he was based at Imperial College, Ascot, UK, as a Research Scientist of the UK Medical Research Council. As this disease is most prevalent in warm countries, he travelled widely for field studies in Africa, Asia, South America and around the Mediterranean, and has worked in over 20 different countries.
Dr Killick-Kendrick is a member of the Expert Committee on Leishmaniasis of the World Health Organisation and has often acted as a WHO consultant. He has published 275 scientific papers on leishmaniasis malaria, trypanosomiasis and other parasitic diseases, and is co-editor of The Leishmaniases in Biology and Medicine. In recognition of his research into parasitic diseases, he has been awarded Honorary Membership of the Italian Society of Parasitology and of the American Society of Tropical Medicine and Hygiene, and Honorary Fellowship of The Royal Entomological Society. He is a recipient of the Sir Rickard Christophers Medal of the Royal Society of Tropical Medicine and Hygiene and the Emile Brumpt International Prize for his contributions to tropical medicine. In 2007, he was appointed Academician of the French Académie des Hauts Cantons.
He is presently an Honorary Research Fellow in the Division of Biology of Imperial College, London, living in very active so-called retirement in the south of France. He is, incidentally, an authority on bells of domestic animals of which he has a collection of over 500.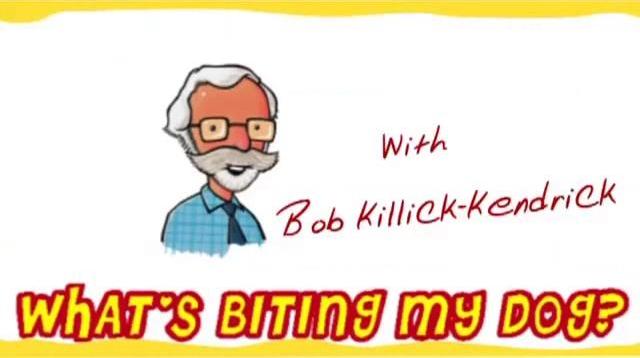 In the "What's biting my dog?" series of videos Dr Robert Killick-Kendrick gives comprehensive information on biting insects, such as sand flies and mosquitoes, and ticks. Important diseases transmitted by biting creepy crawlies, such as Leishmaniasis, Lyme disease, Babesiosis and heartworm disease, that concern our dogs and sometimes us too, are discussed.
Some of these videos have been translated; please browse to the home page to select your country's site.